PurMop® KKV40
Plastic mop frame | foldable | 40 cm System
Description
PurMop® KKV40 is a lightweight and ergonomic mop frame made of abrasion-resistant plastic that boasts a good cleanability thanks to its smooth surfaces. The durable frame can either be opened with the foot or with the mop discarding mechanism on the cleaning trolley and can be fixed using the standard locking system for ceiling cleaning. The quick-change system allows the tool-free connection with the handle. The KKV40 ensures an efficient cleaning performance and can be combined with various PurMop® handles made of plastic and aluminium.
Application / Usage:
Recommended for daily cleaning of floors, walls and ceilings in cleanrooms up to ISO 6.
Product information
_ Made of abrasion-resistant plastic
_ Lightweight and ergonomic
_ Hygienic design, easy to clean
_ Quick-change system
_ Optimal for cleaning of floors, walls and ceilings
Application



Compatible with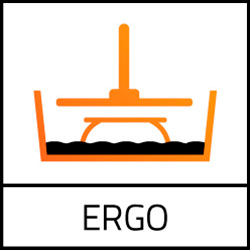 Technical data
Dimensions: 38,8 x 10,0 x 15,3 cm
Weight: 310 g
Packing: 1 frame / bag, 5 bags / carton [5 frames]
We recommend these articles
PurMop® SA180
Plastic/Aluminium telescopic handle | medium length
Art.-Nr. 2131009